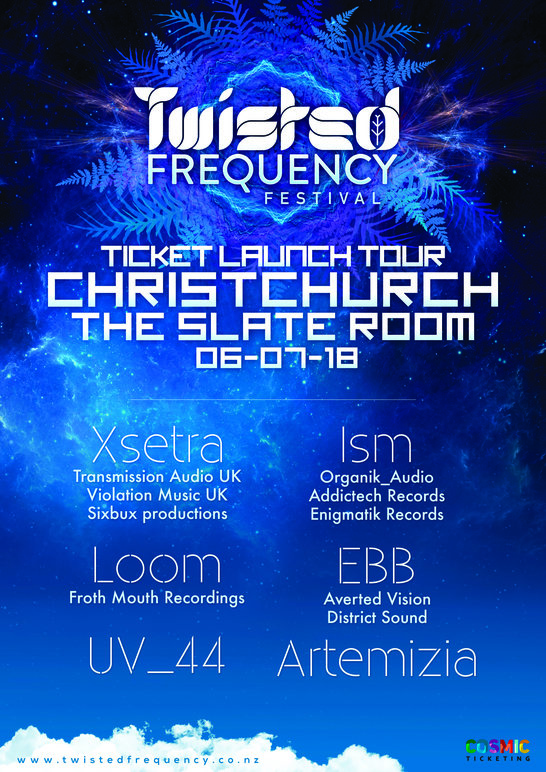 Twisted Frequency Festival is proud to present the Ticket launch tour! For the Canterbury leg we are teaming up with the incredible folks at Synchronicity!
CLICK HERE FOR FACEBOOK EVENT PAGE

Bringing you a stonking heavy bass party!!! Celebrate the early bird tickets going up on sale and get a proper underground dance floor session in.

FULL DOOF RIG SOUND SYSTEM courtesy of Infinite Audio NZ. If you were down at the beat bach stage last summer you will remember the crispy bass that this beast can whip up.

Expect a tricked out show of live psychedelic visuals on top ♥

A favorite among our bass head fans, coming from Sydney Australia we have Xsetra On first performing at Twisted Frequency three years ago he has quickly become a part of the family and we are so lucky to have him return to share his weird and wonderful drum and bass journey with us once again.

For a taste of what to expect check out his set from the New year slot at this years festival:

https://soundcloud.com/xsetra/xsetra-livetwisted-frequency-festival-2017

Next up we have Ism (Formerly organikismness ) Feature heavyweight of the south island bass scene, Ism Has been a long standing contributor to many elements of the Aotearoa bass music world and is another perfect addition for the ticket launch tour! Having just finished touring his other project Soulware with an incredible response nation wide, Ism is jumping back on the road to bring us that beautiful NZ Organik _ Audio sound.

Peep his most recent release here:

https://organikismness.bandcamp.com/track/self-seeded

One of the most talented performers and producers in the Twisted Frequency Team is Loom. Holding down a wide range of quality electronic styles at festival across NZ and the world for over ten years now, Loom has established himself as an incredible asset to the underground party world, It wouldn't be a bass party tour without him.

Follow him on soundcloud to check out with this mad cat is up to next:

https://soundcloud.com/djloomnz

UV_44
https://soundcloud.com/brandnew-nz/spotlight-001 (uncertain)
soundcloud.com/uvuvuvuv
Artemizia
https://soundcloud.com/artemizianz

EBB
Averted Vision & District Sound
Eyes Down Sound

https://soundcloud.com/ebb-nz/production-mix-eyes-down-radio-april-2018

Tickets for this event will be up online very soon so keep an eye on the facebook page.